I'm sure a handful of us devotees of the great Yukika Teramoto have heard of the news but for those who haven't, here's the tea (a painful and bittersweet one, if I may add):
From our debut song "Neon" in 2019 to the release of our full album "Soul Lady" in 2020, thank you for your love and interest.

As of November 30, 2020, Yukika Teramoto has ended her exclusive management contract with ESTIMATE and will continue her independent activities according to her will.

Thank you again for your support, and please continue to show your interest and support for Yukika Teramoto.

Post from Yukika's official website | November 30, 2020.
Not 2020 finding all ways to be the worst, right?? Like what the notice says, Yukika has decided to part ways with ESTIMATE. Yes, the Yukika the brave, the great, and the legendary who emerged on the scene with her own brand of K-pop. One of the few idols who pushed for citypop with all her might in the scene. The one and only Soul Lady…gone by the midnight.
Well, Yukika's career is far from over though. She's probably going to explore with other kinds of contents and platforms (based from this interview, she's into vlogging), sign with a new agency, or even try it out in Japan again, who knows?
However, it's her work with the good people from ESTIMATE that has given her an edge in this saturated Hallyu world. Such is a rare find for most idols and groups and seeing it end so quickly is just…sad.
That makes me wonder though, what is it about that citypop that doesn't click with the public though? Retro concepts have been a trend and the genre fits that perfectly. It's also great coffee shop music and that usually sells well in the charts. Does it have to do with history? The answers I do not know. I'm just gonna stick with what I know about thriving in the K-Pop industry (as a fan of so many years): Sometimes, it really boils down to luck.
Anyway, in honor of the illustrious, ingenious, and beautiful partnership between Yukika and ESTIMATE, I've listed some of what I think are the finest moments from the idol's last project with the company – her first (and only) full length album "Soul Lady".
5. Yesterday
Personally, it's a relief that Yukika jumpstarted her Soul Lady era with this song. I was nervous for a bit that she would be ditching the citypop sound after her two singles but it turns out, she didn't. Props to Monotree for adding a bit of spice to Yesterday to make it a tad bit more modern without sacrificing the brand Yukika and ESTIMATE were aiming for.
「All flights are delayed」1 HOUR LO-FI with 유키카 YUKIKA
With a clear understanding of her core audience, Yukika dropped an hour-long loop of one All Flights are Delayed which is a minute and a half interlude in the album. You are gonna find citypop in any lo-fi beats to study to playlists so this is almost kind of expected from her. However, no other act in K-Pop from my memory has decided to pull up with this kind of gig so this just solidifies Yukika being streets ahead.
3. pit-a-pet
We adore the Soul Lady for her own brand of music but that doesn't mean that she's limited to a specific style. She proves that in pit-a-pet, a totally on-trend K-pop track which surprisingly is about her pet dog. Appearing halfway in the album, the track serves as an effective break as it sounds different but is still able to mesh well with her brand. For me though, this is her saying that she can also pull off what the other girls are doing and we're gonna end there before I drop names *clears throat* l_ona.
2. Shade
This is my favorite cut from the album because it combines two of my favorite things in K-Pop: citypop and Brave Brothers! This seriously sounds like how BB would pen a citypop jam. What's more amusing is they actually released something of the sort with Brave Girls called We Ride. It's the manifesting for me.
1. Soul Lady
Soul Lady is classic Yukika but going deep into its lyrics gives it a whole new perspective. It's her most personal record yet as she gushes about how she has been slowly evolving into a beautiful and confident woman after all she's been through. If anything, it's even a testament of how things will still be looking good for her despite the recent news and as a fan, you can't help but root for her.
With a single ticket in my hands
All the dreams in me are precious
The scent of the city wraps around me today
It keeps making my heart flutter
Nights I was exhausted with loneliness
Countless lights come into my eyes
Overflowing into the night
I'm gonna play a little more
I'm gonna find a different me
All the best, Seoul yeoja!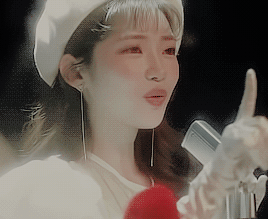 Leaving you here with two of her latest singles that are all still in classic Soul Lady fashion:
Credits:
Cover Image: Screengrab from All flights are delayed – 1 HOUR LO-FI with 유키카 YUKIKA